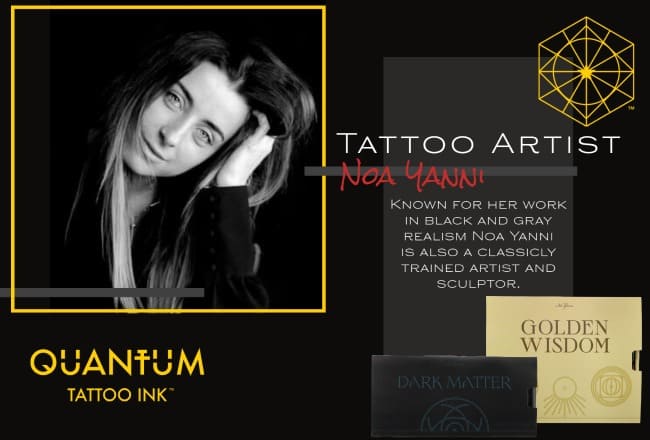 Chances are if you are a tattoo artist or tattoo aficionado and use Instagram, you have run across Noa Yanni's work. With over 68k followers and content that makes thousands of impressions, her work is popular among artists and aficionados alike. Did you know that while she may be known for her work in black and gray realism tattoo, Noa Yanni is also a classically trained artist? Let's take a deeper dive into Yanni and what makes her such a unique and sought-after artist.
Before Her Career as a Tattoo ArtistGrowing up in Montecatini Terme, Tuscany as part of a family where "art has always been at the center of everything", Yanni was immersed in art from a very young age. Her mother, a contemporary sculptor, has always been a big influence in her life. The significance of art in her upbringing led her to pursue a career in fine arts. She attended the Lucca Art Institutebefore graduating from the Academy of Fine Arts in Florence in 2010. A sculptor in her own right, Yanni's national award-winning piece, the two-ton marble "Tempo" has made its home in the Rome Fiumicino Airport.
Noa Yanni's Early Tattoo Career
While still in art school in 2005, Noa Yanni stumbled upon tattooing almost by accident when a tattoo artist friend offered to teach her the art form. After just one year of practicing, Yanni opened her first tattoo studio. For the next six years, she would work on growing her skills in a wide variety of styles from Japanese to Maori and everything in between. It wasn't until 2011 when she was living in New York that she found the true artistic identity in the realism style that she has become known for.
Where is Noa Yanni Now? When she is not participating in tattoo conventions around the world, Yanni splits her time between the three Noa Ink Tattoo and Piercing studios in Terme, Pietrasanta, and Lucca. She also has occasional collaborations with tattoo studios all over Europe, including Italy, France, Germany, and Switzerland. About her art and her skills, she says, "The idea of being able to bring such a complex style to the skin fascinates and stimulates me, I try to improve day after day, combining sacrifice with passion."
Quantum Tattoo Ink and Noa Yanni Collaborations
Quantum Tattoo Ink is honored to have partnered with Noa Yanni on two different artist series collections: Noa Yanni Dark Matter and Noa Yanni Golden Wisdom .

The Noa Yanni Dark Matter series was created especially for the type of black and gray work that Yanni is famous for. With names inspired by astronomy and physics, the tattoo ink colors in this artist series can be purchased individually or as a boxed set (https://quantumtattooink.com/noa-yanni-dark-matter-set-30ml-1oz-bottles/) containing 8 different tattoo ink colors. The set including blacks for lining and filling, white, two gray washes, and several shades of gray is a great complete starter set for any black and gray work.
The Noa Yanni Golden Wisdom series has a more colorful approach. While Noa Yanni is known for her black and gray work, when she does work with color, the results can be spectacular. The colors in the custom-curated Golden Wisdom series are perfect examples of the rich and vibrant tones that can be found in her realism colorwork. Named for constellations, stars, and other night sky phenomena, the 12-piece color collection is as beautiful and colorful as the galaxy is vast. These colors can be purchased individually or as a complete boxed set Both of these special Artist Series tattoo ink sets provide amazing, professional results and make a great kit for any tattoo artist.
To learn more about Noa Yanni, see her work, or book a session, check out her website or find her on Instagramand Facebook.