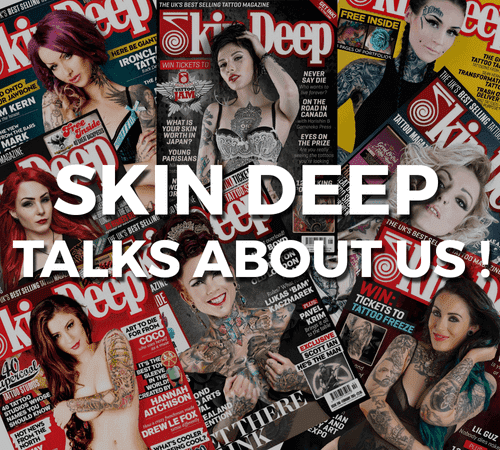 Since 1994, Skin Deep tattoo magazine has been the market leader in the UK. With 13 issues a year, Skin Deep has been the UK's best-selling tattoo magazine since the day it was first published. The name of the game at Skin Deep is "Get Good Ink" and their goal is to lay table with the finest tattoo art.
More than 500 high-quality tattoo images are published in each issue. The magazine also publishes profiles, interviews, and features with the leading tattooists and tattoo artists in the world. As part of the many up-to-date and relevant-to-today's world topics discussed in the magazine, Skin Deep tattoo wrote articles about how the tattoo industry intends to save the ocean.
What is the Crying oceans project?
Our seas are crying, but who is listening? It needs change and action. It needs you and us!
PetrosBallas and his brother Panos have just one mission: to save the ocean. They have recruited a team of artists to help in achieving the mission's goals. After watching the documentary Racing Extinction, Petros said to himself: "I need to do something". The film left him heartbroken and devastated, to say the least. As he watched with tears rolling down his cheeks, he wondered why amazing creatures come to meet such violent deaths.
How the tattoo industry intends to do something about it?
It was brought up that people with tattoos have always been the ones who are brave enough to make a statement, even if that statement is a permanent mark on their bodies. The Crying Oceans are trying to make a statement and fight for the planet's oceans. They chose to work with the tattoo industry and their tattoo shop will be launched soon.
Rebecca Given chatted to the Crying Oceans founder about what's happening to our oceans now. We made the full article available for you to read here
Sea Shepherd
Since 1977, Sea Shepherd has used creative direct-action tactics to defend and protect the delicately-balanced biodiversity of our seas and enforce international conservation laws.
Sea Shepherd campaigns protect whales, dolphins, seals, sharks, penguins, turtles, fish, krill and aquatic birds from poaching, unsustainable fishing, habitat destruction, and exploitive captivity.
Quantum Tattoo Ink & Sea Shepherd
Sea Shepherd Tattoo is a creative way to raise awareness about the marine problems that the world faces and an artistic way to raise money to fund Sea Shepherd campaigns.
Sea Shepherd had very high-quality standards when selecting a manufacturer for the tattoo inks to be used in their tattoo products. They needed a tattoo ink manufacturer able to provide the highest quality tattoo inks possible that contain no animal products; comply with all EU (European Union) quality and global health standards; meet the requirements of the vegan community worldwide and more. With such high standards, Quantum tattoo inks were the natural choice and we are proud to provide quality tattoo inks for Sea Shepherd Tattoo Studio in Amsterdam to support their noble cause.
More about Sea Shepherd Tattoo in this Skin Deep magazine article available for you to read here