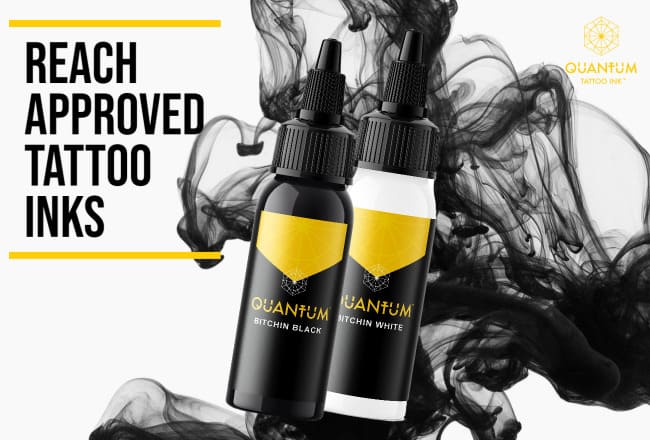 The Tattoo industry, especially in Europe, had been abuzz with talk about the new REACH regulationsthat became effective in January 2022 for tattoo inks. These regulations effectively banned several chemicals contained in pigments that have been used industry-wide by tattoo ink manufacturers for years. The regulations have led tattoo ink manufacturers to have to register the formula for each individual color of tattoo ink and in many cases, to reformulate their inks with new pigments that are compliant with the new regulations. In addition, new stricter labeling regulations have required tattoo ink manufacturers to have to redesign how they label and package their products.

So what does that mean to you, the tattoo artist? Because creating new formulas, registering them, waiting for approval, and redesigning labeling and packaging takes a great deal of time and money, the main issue artists throughout the EU are facing is a lack of REACH compliant tattoo inks on the market. The great news is that Quantum Tattoo Ink currently has over 75 REACH compliant colors available now with more colors coming soon! Just look for the REACH Gold Label section on our website!
To learn more about the REACH Approved tattoo inks that we have available now in our Gold Label collection, keep reading:
Reach Approved Black Tattoo Ink
The most exciting news about our REACH Gold Label is that you will have a variety of REACH compliant black tattoo ink to choose from as all of our black tattoo ink is now approved!
Choose our most popular and versatile Bitchin Black if you want a single multi-purpose black ink that powers through your tattoo from outlining to shading and even with solid blackwork. If you are looking for an ink that performs exceptionally for fill-in and solid blackwork, choose our original black tattoo ink, Assphalt. Another great option for highly-pigmented jet-black fill-in is Sculpting Black. For a specialty ink for lining, opt for Lining Black. It is specially formulated to create great lines in a single stroke but wipe away easily to leave your stencil intact. For a touch of old-school nostalgia, check out Black Dynomite. It contains 70% jet black pigment with just a hint of blue for that classic fade-to-blue look many clients seek out.
Reach Approved White Tattoo Ink
We have more great news! In addition to our black, all of the white tattoo inks that you love are now REACH Approved. You can find them all under the Gold Label section of our website as well.
Our most popular and versatile white tattoo ink is Bitchin White which contains pure concentrated opaque white pigment. For the brightest white, keep it fresh with Douche. On the other hand, if you are looking for something a little more opaque, choose Barry White. If you want to pay tribute to your favorite Golden Girl or need something just slightly off-white, choose Betty White. It has slight green and yellow undertones.
Reach Approved Color Tattoo Ink
What's more, many of our color tattoo inks are REACH Approved. Look at the REACH Gold Label section of our website for options in Aqua, Blue, Brown, Gray, and Green.
Reach Approved Gray Wash

In addition to our entire collection of black and white tattoo inks, we also have several REACH Approved gray wash options available to purchase.Our classic Quantum Gray Wash is available in three different shades including Light (50% black), Medium (100% black), and Dark (200% black). Additionally, our entire Revenge of the Sith Gray Wash Set is REACH Approved as well. The four options include Vader (50% black), Maul (100% black), Dooku (150% black), and Sidious (200% black).
Fans of our Artists Series will also be excited to know that all of the items in the Arron Raw Skull & Bones Gray Wash line are also REACH Approved. This set has four Gray Wash shades to choose from including Ultra Light (25% black), Light (50% black), Medium (75% black), and Dark (100% black). It also includes an opaque bright white tattoo ink called White Noise and two black tattoo inks. Black Death is a deep intense black perfect for fill-in or solid blackwork. If you are looking for a lining black that will not fade to blue, reach for Black Tomb.
REACH Approved Artist Series
Arron Raw is not the only artist that is in on the REACH Approved tattoo ink action! We also have options available from our collaboration with Jurgis Mikalauskas and Noa Yanni.

From the Jurgis Mikalauskas Sailor's Grave series, we currently have Deep Sea (muted aqua blue), Oyster Shell (dirty gray), and Tropical Waters (true cyan). We hope to have more of the bright, vivid colors from this series available soon.

When it comes to Noa Yanni, we have a wider variety of options that are REACH Approved. The entire Dark Matter series, including two blacks, a white, two gray wash tones, and several grays is available under our Gold Label. We also have a black and a white available from the Golden Wisdom series.
REACH Approved Sea Shepherd Tattoo Ink

As most of our customer base probably already knows, all of out tattoo inks are vegan and cruelty-free. For those who want to take their environmental and animal protection efforts to the next level, we have made sure to also get as many of our Sea Shepherd tattoo inks as possible REACH Approved.

For those looking for a great selection of black tattoo ink and gray wash, check out the Sea Shepherd Gray Wash series. This collection contains a lining black, a deep black for blackwork and fill-in, and four gray wash blends. The Sea Shepherd Whale collection currently offers several vibrant blues, greens, and grays to choose from. If you are looking for a variety of grays, check out the Shark series.

To learn more about our collaboration with Sea Shepherd and how a portion of all proceeds from these collections goes to aid in conservation efforts around the world, check out our blog.
Get your REACH Approved tattoo ink today!

All of the colors mentioned above are available in convenient 1oz (30ml) bottles. Plus buy larger and save on several colors available in 2oz (60ml) or 4oz (120ml) bottles. Or give some of our colors a try for the first time in smaller .68oz (20ml) bottles.
With over 75 REACH approved colors, outstanding REACH Approved Mixing Solutions, and more coming soon, let Quantum Tattoo ink be your source for REACH Approved tattoo ink. To shop in the EU, check out QuantumTattooInk.eu and follow us on social for updates on future releases of additional REACH Approved colors.