Art and activism have always gone hand in hand, so it's no surprise that Quantum Tattoo Ink - the best tattoo ink manufacturer - is partnering with Sea Shepherd Global - one of the most active international marine wildlife conservation organizations.
Sea Shepherd fights to defend, conserve, and protect the planet's oceans. Sea Shepherd is a non-profit organization that engages in direct-action campaigns to defend marine wildlife and protect the world's oceans from illegal exploitation and environmental destruction. Sea Shepherd's mission is to end the destruction of habitat and slaughter of wildlife in the world's oceans in order to conserve and protect ecosystems, and we are truly honored to help fulfill this mission.
Sea Shepherd's missions aren't for the faint of heart, they use innovative direct-action tactics to investigate, document, and take action, when necessary, to expose and confront illegal activities on the high seas.
In 2018, Sea Shepherd Global, Quantum Tattoo Ink, and TattooLand launched the Sea Shepherd tattoo ink sets.
Sea Shepherd tattoo ink is a way to raise awareness about the marine problems the world faces and an artistic way to raise money to fund Sea Shepherd campaigns around the world.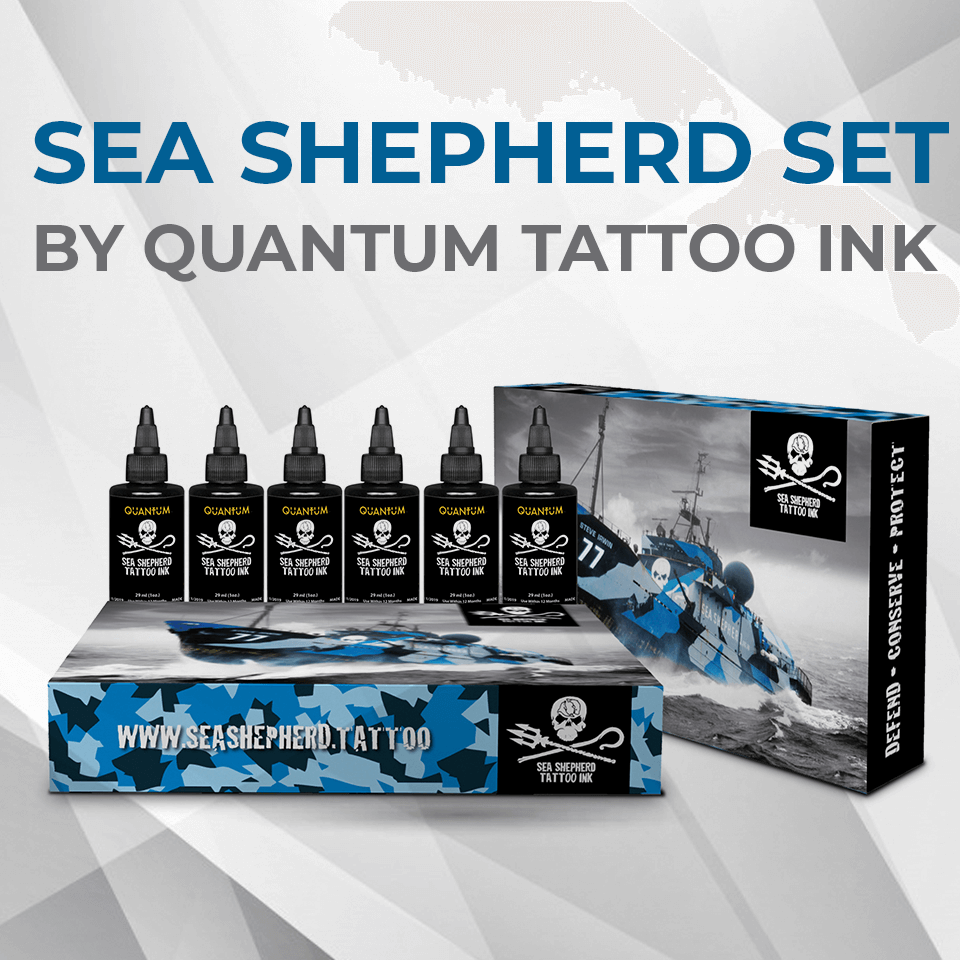 Along with TattooLand and Sea Shepherd, we created three tattoo ink sets. The sets contain different colors - each with their own theme. The Whale set contains 4 different blues, 1 green and 1 grey for a beautiful oceanic sensation. The Shark Set contains 4 different greys and 2 reds, for all the unnecessary bloodshed of the amazing sharks. The Grey Wash Set contains 4 different grey washes, a lining black, and a solid black. This set is unique for its composition - the Light and Ultra Light grey washes are made by adding a small amount of white pigment. This gives a bolder, richer black and grey tattoo.
Like all Quantum Tattoo Inks, these inks contain no animal products, and no ingredients or finished products are ever tested on animals. They also comply with all EU (European Union) quality standards, global health standards, and meet the requirements of the vegan community worldwide.
By purchasing one of these sets, you will not only be using vegan, high-quality and cruelty-free tattoo ink, you will also be helping to support Sea Shepherd Global - whose mission is to protect our oceans. All profits will go to protecting the world's oceans in order to preserve them for generations to come.
Products are available here: https://bit.ly/2VVM24d
For the present and the future, serious and dedicated organizations, like Sea Shepherd, need more creative allies and more action. As the old saying goes: If not now, when? If not you, who?"